Welcome to Royal Hack

---

Royal Hack has been founded over a passion.
Gaming, coding and reverse engineering are our main interests, that's what naturally leaded us into the gamehacking industry early 2007.
 

Our goal is to satisfy those players who wants to experience their games differently, we implemented several features that will improve the gaming experience by always staying one step ahead of any other player.


All the hacks being sold on Royal Hack are designed to be completely invisible to the anticheats, and we are working to improve that security every single day.
www.royalhack.net

Undetected private cheats provider since 2007

Made in France 
Software Delivery
---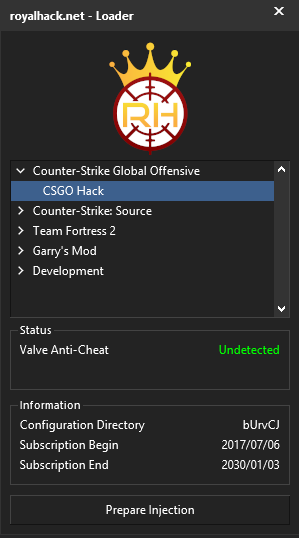 RHClient© is our proprietary software and is automatically delivered to you once the purchase has been approved.
This software is constantly evolving for your safety and ours aswell. Each customer gets an unique build of RHClient©, per version.
Windows 7 (32bit/64 bit)
Windows 8 (32bit/64 bit)
Windows 10 (32bit/64 bit)
Windows 11 (32bit/64 bit)
Data collection

---

The only system-specific data we retrieve is your HardwareID.

This is necessary in order to authentify you as a customer and authorize your access to our private softwares.

Non exhaustive list of what kind of data we can retrieve/log:

HDD/SDD Serials
CPU/GPU Serials
Motherboard + BIOS Serials
Windows Build Version + Session name
Public IP Address

Basically a complete hardware cartography is possible but we never read your filesystem nor any personal data, at all.
Privacy

---

While your personal data such as your real name are needed for our billing process, all those sensitive informations are secured within our database, encrypted.


RHClient© will take care of sending only the informations it needs and in a secure way (fully encrypted).
Developers
---
User Group:

SysOp

Member Title:

Unstug !

Post Count:

2160

Total Rep:

1397

User Group:

Coder

Member Rank:

Enthusiast

Post Count:

70

Total Rep:

78

User Group:

SysOp

Member Title:

Administrator

Post Count:

13

Total Rep:

3262

User Group:

SysOp

Member Title:

SysOp

Post Count:

166

Total Rep:

134

User Group:

Cursed

Member Title:

I love unstug

Post Count:

0

Total Rep:

692