Grand Theft Auto 5
 Royal Hack  - Grand Theft Auto 5 Cheat
Product information
Our GTA 5 Hack is perfect to play the solo or online modes of GTA 5.
Many features available, aimbot, ESP, teleporter, godmode, exploits, protections against other hackers !
The subscription includes free hack updates for the whole lifetime of your subscription plan at no additional costs.
Designed for latest Steam / Rockstar / Epic versions of the game !
FiveM 2189 & 1604 are currently fully supported & undetected !
System Requirements
Windows 7 (32bit/64 bit) 
Windows 8 (32bit/64 bit) 
Windows 10 (32bit/64 bit)
Our GTA 5 Hack© is only available using RHClient© which is registered and locked to your hardware and has been designed with RHFramework©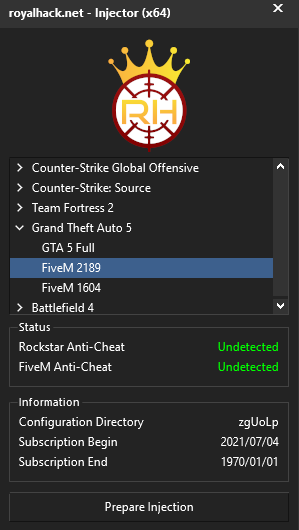 1 product